Price List of Niches for Ashes in Hermosillo 2020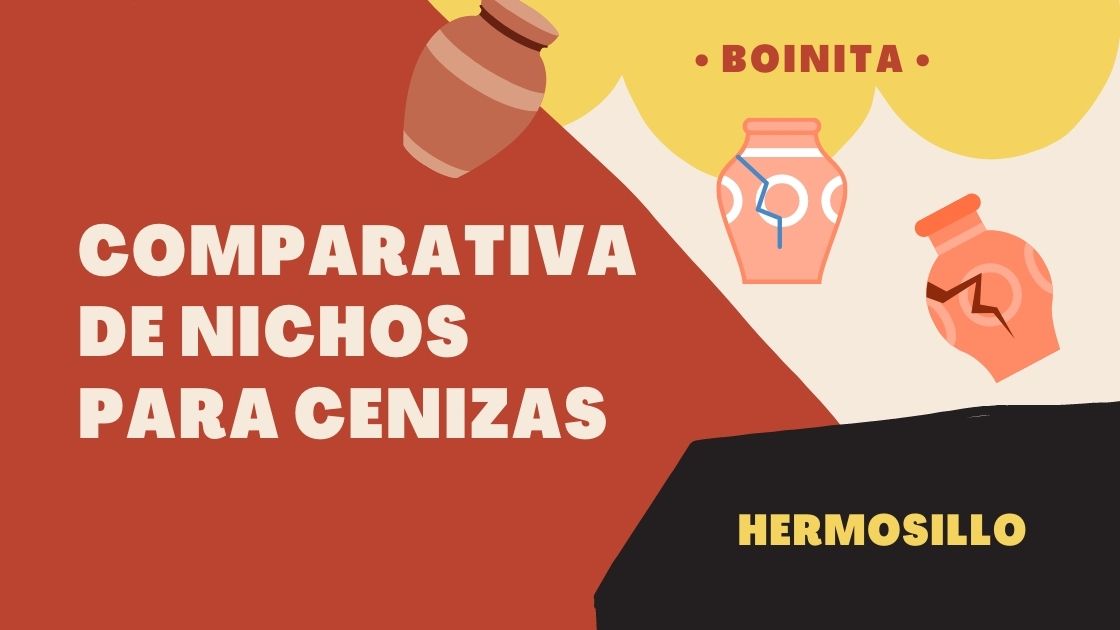 Niches for Ashes in HMO
Many choose a simple cremation over a traditional funeral because of the enormous savings. Another advantage is easier scheduling for the memorial service and being able to have the ash niches close to your home.
These advantages are the reason why cremation in Hermosillo has become the preferred option for more than 60% of Sonorans.
Compare niche services in Hermosillo
Boinita has a convenient list of prices and phone numbers of organizations that offer the service of niches for ashes in Hermosillo. This makes it easier to find economic niches near you.
Review the services you want and call. This helps everyone understand exactly what costs are involved. With this information you can pay for these services in advance and in some cases take advantage of a promotion.
Cremation urns
You may wish to have an urn to hold the ashes. The cost of an urn is around $500 to $10,000 pesos. If your budget is tight, consider using any other container you can get for a cheaper price, such as a nice ceramic vase with a lid or a beautiful jar..
You can also get creative and use something that reminds you of a favorite thing, such as a nice empty liquor bottle, jewelry box, etc. There is really no reason to limit your options in this regard.
How to choose a niche for ashes in Hermosillo?
Before choosing a location for your urn, take a look at the tips and suggestions below, the goal is to help you get organized and understand what your options are. It is much better to take the time beforehand to decide which provider is best for you.
So how do you choose a niche that is right for you or your loved one?
It really comes down to your priorities. Here are some things to consider:
Niche location
Location can be important when choosing a niche for several reasons. First, if your loved one has already arranged a future package with a funeral home, it is probably wise to call them on the phone and ask what their service includes.
You may want to consider the distance from close friends and family. Remember that the new generations are more nomadic and are not as committed to a fixed location.
Try to have the location within 10 km of your home and that your provider is flexible in visiting hours.
Logistics and amenities
Depending on what you envision for the service, a particular funeral home or church may work best for you. Some things to consider include the size of the niche, whether or not you want an on-site event space for group visits, a particular feature such as a garden, or other features such as technology.
When you call to inquire about niches, be sure to ask about their special features and amenities.
Hermosillo Niche Price List
How much does a niche cost? The price varies according to the place where the urn will be placed, the services and details you choose.. You will have an easier process if you can establish a rough budget range. Always ask if there is flexibility in payments.
Whatever your budget, the cemetery or church should be willing to provide transparent pricing and create something meaningful that honors your loved one, but don't feel pressured to go into debt.
A beautiful farewell has much more to do with the feelings, emotions and memories of a beloved friend or family member.
| NICHES | TELEPHONE | 2 URNS | 4 URNS | +6 URNS |
| --- | --- | --- | --- | --- |
| Metropolitan Cathedral of Our Lady of the Assumption | 6622146747 | – | – | – |
| Archdiocese of Hermosillo Expiatory Temple | 6623109377 | – | $12,000 | – |
| St. Mary Mother of God Parish | 6622509492 | – | $10,000 | $20,000 |
| Guadalupan Sanctuary | 6622153581 | – | – | $25,000 |
| St. Charles Borromeo | 6622168473 | – | $16,000 a $18,000 | – |
| St. Francis of Assisi Parish | 6622143188 | – | – | – |
| Santa Elena de la Cruz Parish | 6622165665 | – | – | $20,000 |
| St. John Bosco Parish | 6622184093 | – | $12,000 a $15,000 | – |
| Santo Niño de Atocha Parish | 6622505308 | – | $9,000 | – |
| Nuestra Señora de la Candelaria Parish | 6622504127 | – | – | |
| St. Hedwiges Parish | 6622152328 | $12,000 | $20,000 | – |
| León Funeral Home | 6622142320 | | | $25,200 a $33,840 |
| St. Michael's Chapel | 6622142320 | | | $25,200 a $33,840 |
Most of these cemeteries and churches include the following in their services:
Plate engravings.
First opening and closing of the plate.
Ballot box placement ceremony.
Perpetuity (ask).
100% transferable.
Traditions
Most cemeteries are open to caring for families regardless of their customs, but there are some providers that specialize in working with certain traditions and religions.
If you are not sure, you can ask. Most are very open to special requests and needs that will help you choose the right farewell.
Be an informed consumer
A little knowledge goes a long way in relieving stress and making things more organized. Try these tips:
Call churches and cemeteries that interest you; ask questions and speak frankly; share your priorities and concerns.
Go to visit. Before choosing a niche, you can tour the facility. Feel free to come in and simply tell them you are interested. They will be happy to receive it and you will have a good idea of what to expect.
At Boinita we can take care of the cremation of your loved one. Then, once we have returned the ashes to you, you can arrange a simple memorial service that is perfect for you and your family.
For more information about our service go to http://boinita.com
Boinita offers Single Cremation services without a Funeral Service, with a fixed price and 24-7 customer service. Boinita is located in the metropolitan areas of Aguascalientes, Cancun, Hermosillo, Merida and San Luis Potosi.
In Pet Cremation Services we are located in the cities of Aguascalientes, Cancun, Chihuahua, Ciudad Juarez, Leon, Merida, Puebla, San Luis Potosi, Tijuana and Toluca.