Tips to Reduce Funeral Costs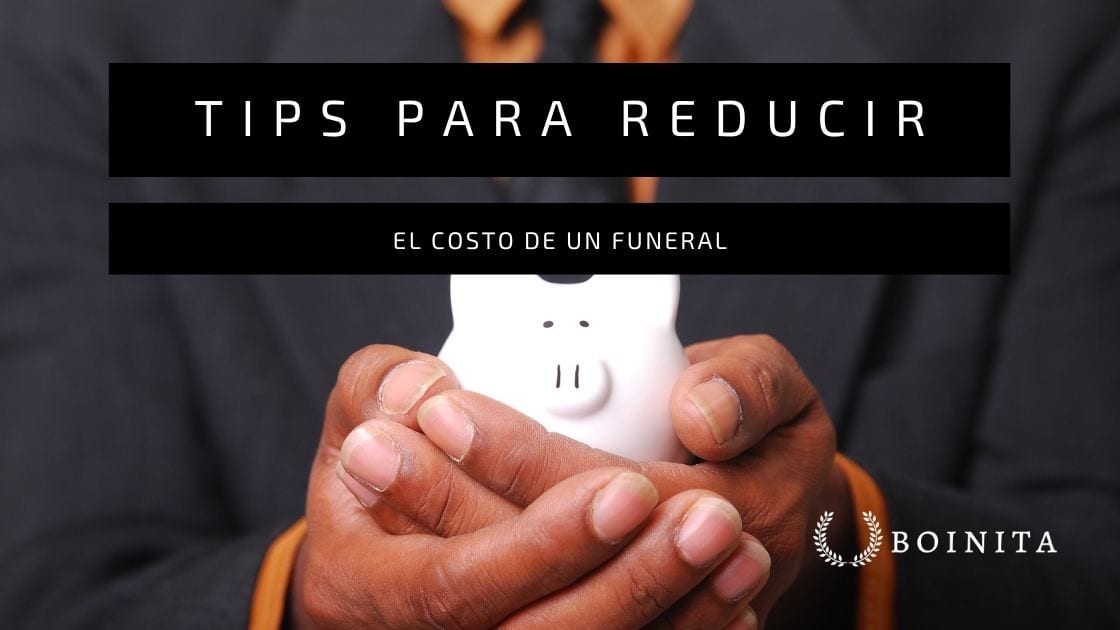 Tips to reduce the cost of a funeral
More and more people are choosing cremation as part of their afterlife wishes. And the reason is clear: price. Simple cremations reduce the stress of debt for your family members. And, with card payment options, the most trusted cremation providers offer an even more affordable way to cover the costs of a funeral.
These are the main tips to reduce the cost of a funeral.
Avoid coffin costs
A traditional funeral and burial can cost more than $25,000 pesos. And, if you haven't saved for this event, the cost of the casket alone can cost your loved ones $10,000 pesos minimum. Cremations significantly reduce the total cost of burial.
Plan ahead
When a family member dies, a funeral is usually held within the first few days. This is a very short turnaround time when you have to arrange a funeral and coordinate travel for family, colleagues and friends.
With a cremation, the time frame is significantly lengthened. Your family can plan a funeral and have enough time to allow for the travel of relatives who live far away.. Not only does this eliminate stress, but the costs associated with last minute travel are eliminated.
Save for cremation
Paying for the cost of embalming and funeral service can be stressful if you have not saved enough. With a simple cremation, your memorial service can be planned without haste and without having to pay for everything in less than a week. The family can pay for a cremation and then save money to have a memorial event later.
Omit a burial place in the cemetery
People who are cremated have their ashes stored in an urn or scattered in one of their favorite places. This eliminates the need for a burial site. Depending on your cemetery, skipping this tradition can save you $15,000 pesos or more. The ashes can also be divided among your loved ones, allowing them to remember you forever.
Avoid pushy funeral homes
Stay away from pushy funeral homes that try to sell you a package deal.
There may be extras in the package that you do not need.
Instead, create a customized package by choosing only the things you want.
Use a green cemetery
It is likely that a green cemetery will not require urns so you will save money by not having to purchase one.
Green cemeteries are becoming more popular as demand increases for a cost-effective and environmentally friendly alternative to traditional burials.
Tips for reducing the cost of cremation
A funeral is among the most expensive purchases many people will make in their lifetime. While cremation offers a significantly lower cost alternative to traditional funerals, there are a few tips to reduce the cost of a funeral even further.
Decide what type of cremation you want
A cremation with a funeral service will still cost between $25,000 and $80,000 pesos. A memorial service arranged by the family will cost less, and a direct or simple cremation without ceremony is the most economical cremation option of all.
Consider simple cremation
Simple cremation is the fastest growing option for families because it is more economical and simpler to arrange.
Simple cremation does not include a formal funeral, so it avoids many of the traditional funeral costs. The body is cremated immediately, which means that you can contract the services of a direct crematory instead of having to coordinate everything through a funeral home, allowing for significant savings.
There is no wake prior to cremation, which eliminates the need for embalming. Instead, the body will generally be cremated in a simple container, rather than a casket.
Costs vary by state, city and supplier.
Compare cremation costs
Comparing prices is a rarely performed part of arranging a cremation. Many people do not realize that costs can vary by thousands of pesos between funeral homes in the same city.
Ask for a simple cremation price list or a funeral home that is transparent about their pricing from the beginning.
Beware of promotional prices.
For a direct cremation, make sure the quote is complete and includes the following:
Collection of your loved one
Filing of paperwork and permits
The cremation urn
The cremation itself
Taxes and VAT
Return from the ashes
Other fees to consider for cremation
Death certificates: number of copies required.
Non-standard collection: if someone dies at home (as opposed to the hospital) or needs a doctor to generate the medical death certificate.
Death by Covid: Some funeral homes charge extra for the special handling of this type of death.
Conduct a memorial service yourself
If you arrange a memorial service through a church or funeral home, it will be a higher cost.
Think of alternatives that you can organize yourself: such as a picnic, a hike or a dinner (all can be special).
Buy a Cremation Urn Online
You can find cremation urns much cheaper by shopping online.
You will find a larger catalog and a lower price than if you buy directly through a funeral home.
Plan cremation in advance
Take advantage of any low-cost promotional offer.
It will take the burden of fulfilling your family's wishes off your shoulders during a difficult time.
Cremation Versus Funeral Costs Comparison
Here is the breakdown of the average savings by using simple cremation:
No need for a funeral director or staff: save $3,000 pesos.
No embalming of the body; save $6,000 pesos.
No need for a casket: save $ 15,000 pesos.
Without a need to see it: save $1,500 pesos per hour.
Hearse transportation is not needed: save $ 4,000 pesos.
No need to dig a grave: save $1,000 pesos.
No need for a burial plot: save $25,000 pesos.
No need for a tombstone, save $ 5,000 pesos.
That total is an incredible savings of $58,000 pesos when using single cremation.
At Boinita we can take care of the cremation of your loved one. Then, once we have returned the ashes to you, you can arrange a simple memorial service that is perfect for you and your family.
For more information about our service go to http://boinita.com
Boinita offers Single Cremation services without a Funeral Service, with a fixed price and 24-7 customer service. Boinita is located in the metropolitan areas of Aguascalientes, Cancun, Hermosillo, Merida and San Luis Potosi.
In Pet Cremation Services we are located in the cities of Aguascalientes, Cancun, Chihuahua, Ciudad Juarez, Leon, Merida, Puebla, San Luis Potosi, Tijuana and Toluca.