How much does it cost to transfer a body in Mexico?
Do you need to transfer a body in Mexico?
In this guide we will show you how to determine the fee for a body transfer service in Mexico. This will help you to have an estimate for when you need the service.
In many cases the funeral home is accustomed to impose fees that it believes will generate more profit, but this can ultimately have a negative effect on the customer's perception.
Remember that the funeral home must maintain its units in good condition, pay fair wages to operators and change its units or floats when necessary.
Many funeral homes negotiate the sale of their services taking into account some of the basic variables of their operating expenses such as fuel and booths, plus their "profit", without taking into account the totality of variables, such as the wear and tear of their units, tires, cost of capital, etc.
Formula used in the transfer of bodies
Most funeral homes use this formula: Fee = Profit + Fixed Costs + Variable Costs * Distance.
Fixed costs in relocation
Fixed costs are those that are incurred every month regardless of whether the vehicle is in operation or not, such as:
Vehicle monthly payment.
Insurance.
GPS.
Variable relocation costs
The variable costs taken into account are as follows:
Payment slip from the State Fiscal Agency (for transfer).
Fuel.
Maintenance.
Tires.
Booths.
Food.
Parking lots.
Washing of the vehicle.
Operator's hotel if you have to travel many kilometers.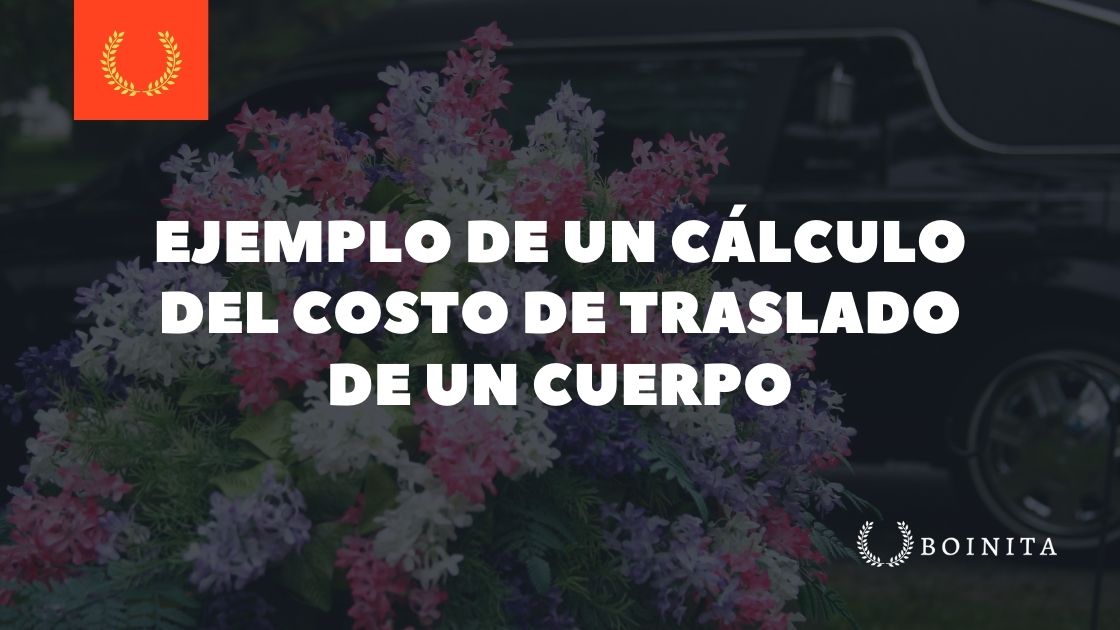 Example of a body transfer cost estimate
Let's say you need a body transfer service from the city of Queretaro to the city of Monterrey and a funeral home offers to give you the service, you must take into account the following aspects to establish if the service is convenient for you or not. This route is approximately 706 kilometers long and we have established a duration of 2 days (average driving time of 9 hours per day).
Take into account:
Mileage: We can calculate it on Google Maps, 706 km or 1,412 km (706 by 2) counting the return trip.
Number of days: 2.
Kilometers per liter consumed by your vehicle: 10 km on the highway (this figure varies according to the vehicle brand).
Fuel value: 18 pesos * liter.
We then divide the trip mileage by the km/lt consumed by the vehicle and multiply it by the fuel price.
1,412 km / (10 km/lt) = 141.2 * $ 18 pesos = $ 2,541.60 pesos.
In addition:
Casetas: Calculate them in Traza tu Ruta

QRO > MTY > QRO = $ 410 pesos ($ 205 for 2).

State Fiscal agency payment slip: $ 500 pesos (varies depending on the state).
Value of food: $ 300 pesos.
Hotel rate: $ 800 pesos.
Parking: $ 100 pesos.
Vehicle wash: $ 100 pesos.
Operator Salary: $ 1000 pesos * day
This sum gives $6,751 pesos, which is the variable costs of the trip, plus the fixed costs mentioned above (vehicle rental, insurance, GPS, etc.).
Retail Price Calculation
A calculation used by many funeral homes for the final price to the client is to multiply the number of kilometers to be traveled by $15 or $25 pesos depending on the route.
Example:
QRO > MTY > QRO the calculation would be 1,412 km * $ 15 pesos = 21,180 pesos.
Extra costs for the transfer of bodies
Remember that the cost of the coffin + the service of another funeral home at the place of destination (wake) + the place in the cemetery must still be added to the transfer price.
This can increase the costs a lot and it is important that you have it contemplated in your budget beforehand.
How to save money on a body transfer
One way to save a lot of money in the transfer of a body is to use simple cremation. This already includes cremation, permits, paperwork, taxes and the urn. This way the family can travel with the urn in their own vehicle and save many of the costs associated with moving a body.
At Boinita we can take care of the cremation of your loved one. Then, once we have returned the ashes to you, you can arrange a simple memorial service that is perfect for you and your family.
For more information about our service go to http://boinita.com
Boinita offers Single Cremation services without a Funeral Service, with a fixed price and 24-7 customer service. Boinita is located in the metropolitan areas of Aguascalientes, Cancun, Hermosillo, Merida and San Luis Potosi.
In Pet Cremation Services we are located in the cities of Aguascalientes, Cancun, Chihuahua, Ciudad Juarez, Leon, Merida, Puebla, San Luis Potosi, Tijuana and Toluca.