How to Plan a Funeral in San Luis Potosi this 2020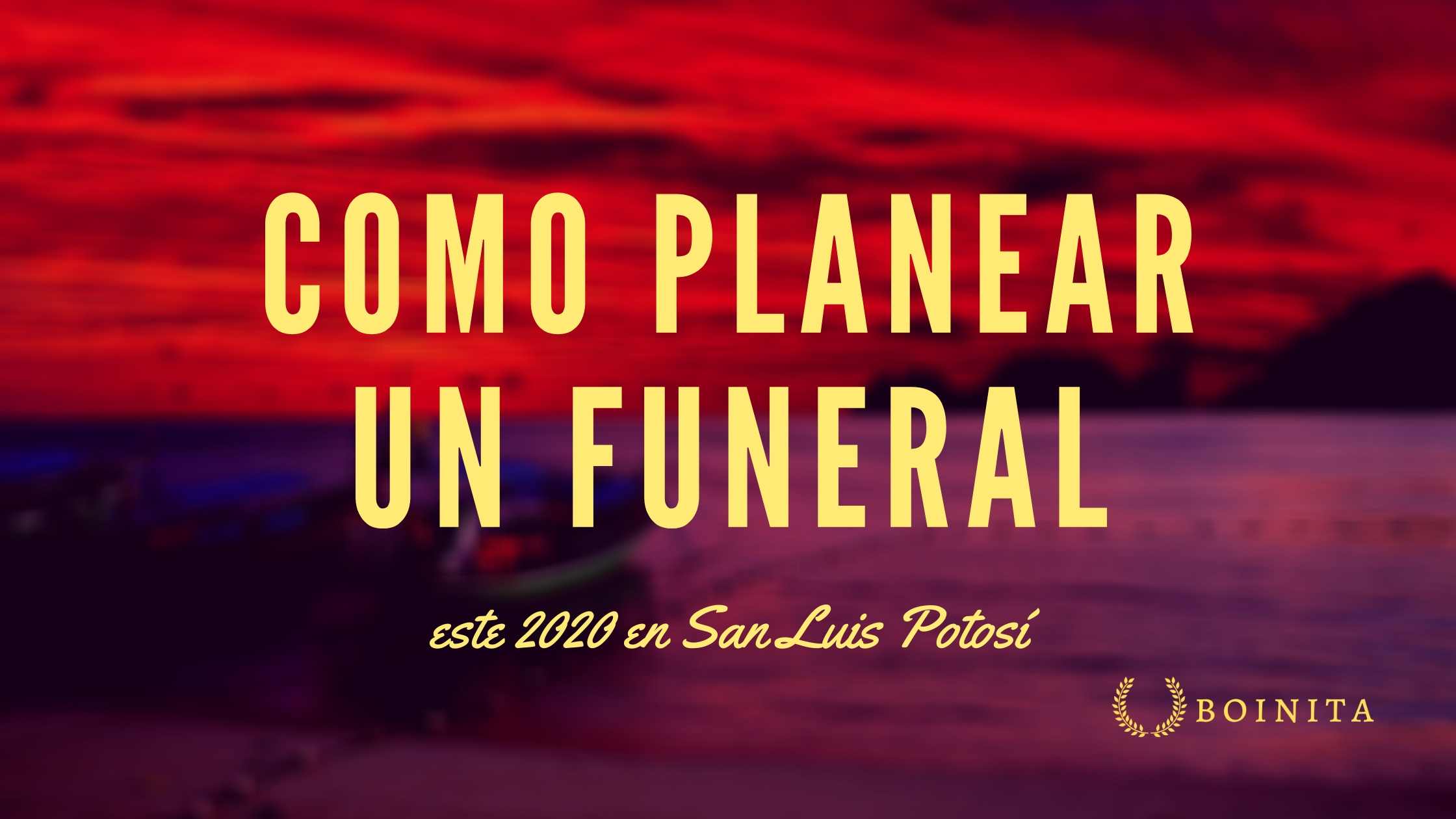 Making funeral planning arrangements can be difficult, whether you are planning a full service or a cremation service in San Luis Potosi for someone close to you or simply planning your own funeral in advance. There are many decisions to be made.
This article is here to guide you through the process from start to finish, with suggested timings to help you if you are arranging a funeral, take your time to follow the steps below.
How to plan a funeral step by step
The funeral planning checklist below should be taken as a friendly guide, rather than instructions, just as every family is different, every funeral is also different.
1) Find a funeral director or funeral home to plan the funeral with you.
You don't need a funeral director to plan a funeral, but many people find them a great help. If you don't already have someone in mind, it's a good idea to compare a few different funeral homes in terms of prices, reviews and whether they offer the services you need.
2) Planning a funeral for a loved one? Check first your willingness for any plan
If you are unsure how to plan a funeral for a loved one, it is worth consulting their will (if there is one) for instructions. You can also ask family members about their wishes.
3) Plan the funeral with your chosen funeral director.
Once you have chosen a funeral director, they will set up a meeting with you to discuss all the different things to plan for at a funeral. This usually takes one or two hours.
Most funeral directors can come to your home to plan the funeral with you, which can facilitate the conversation.
At this point, these would be some of the questions:

Would you like to organize a cremation or burial?
Cremation is the most popular option, with 70% of people preferring it over burial. This may be due to cost: in general, cremation is less expensive than burial and you do not have to pay any fees (monthly or yearly), and direct cremation (cremation without funeral service) is the least expensive option in San Luis Potosi.
While most burials take place in local authority-owned cemeteries, "natural" green burials are on the rise, and most funeral directors are now able to offer them.
Less common options are private burial (at home, for example) and burial at sea.
Which casket or urn would you prefer?
There are many different types of caskets and urns to choose from, and it can be a bit overwhelming. If you find a casket or urn you like online, it's okay to buy it and give it to your funeral director.
Would you like to visit your loved one at the funeral home?
Some families find it helpful to come and see the person who died during their time at the funeral home. This is sometimes called a "visit".
Many funeral homes have small, quiet rooms (often called "Chapels of Rest") for this, where families and close friends can be in private.
Would you like to embalm the body?
Funeral homes perform embalming: washing, dressing and preparing the body of the person who has died so that it looks tidy and peaceful.
Some funeral directors also offer a "hygienic treatment", where the body is carefully treated with chemicals to preserve it for a longer period of time. This is often suggested when the body is to be repatriated from abroad.
Natural burial grounds generally will not accept bodies that have been embalmed, as the chemicals used in the process are considered harmful to the environment.
What should the person who has died wear?
While some religions require particular burial or cremation clothing, otherwise it is an individual decision. Some people would like to be buried in their favorite clothes, while others may want a fresh new outfit.
If the person who died is to be cremated, it is important to remove metal jewelry first, as this can melt.
Would you like some funeral transportation?
The funeral director will ask you if and how you would like them to hire a vehicle to transport guests to the funeral home. Some funeral homes provide special vehicles and transportation upon request.
While this may be good, it is cheaper to use your own cars.
Where and when would you like the funeral to be held?
There are a few things to consider when choosing the time and date of a funeral. Like weddings, funerals held on weekends can be more expensive.
You will also need to choose a location for the service and reception, if you have one.
Do you want flowers?
Funeral flowers can be arranged through the funeral director or independently.
4) Plan the funeral service with a speaker or religious representative.
Anyone can officiate at a funeral, so if you are not religious, you can ask a speaker to do it.
When meeting to discuss the organization of the funeral service, it may be helpful to bring photos and prepare some personal stories to tell. You are also likely to be asked:
Would you like any hymns, songs or classical music for the funeral?
Would you like any specific funeral poems, prayers or readings?
Would you like a theme or special features for a personal service?
What would you like your guests to wear?
How long should the funeral last?
5) Start creating the obituary
The eulogy is the main speech given at the funeral, while the obituary is an (optional) announcement of the death and details of the funeral. Obituaries can be published online or in a newspaper. If you are planning your own funeral, you can gather information in advance to help your family when the time comes.
There are some websites that collect memories, photos and videos of friends and family. On these pages you can tell your story and invite acquaintances to the service.
Do you organize your own funeral?
Remember to keep your funeral wishes in a safe place and let your family know where they are; you can even add them to your will, if you wish.
If you are interested in paying for most of your funeral in advance, you might also consider setting up a prepaid funeral plan, although most of the time it is better to have life insurance as we explain in the article Why you may not want to prepay your Funeral?
6) Share the time, place and date of the funeral service.
Once you have finished planning the funeral service, it is time to make calls to inform friends and family of your arrangements. You can also share an obituary online on social media or by email, or pay to publish a death notice in the local newspaper.
7) Organize the flowers
If you are organizing your own floral arrangements, it will probably take a few hours. It is useful to go around and compare opinions and prices.
8) Create the order of service
The order of service is a basic schedule for funeral guests, but many families see it as an opportunity to express their loved one's personality as well. Generally, the order of service will include biographical information and images of the person who passed away, along with all readings, prayers and songs to be included in the funeral service.
9) Attend the funeral
People grieve in very different ways; it is important to know that there is no right or wrong way to feel at a funeral. Do what you need to do to get to the end of the day and remember to lean on the support of friends and family.
10) Send thank you notes and donate flowers.
You do not have to send thank you notes to those who attended the funeral or sent you cards, but you may do so if you wish. Another thing to consider is the flowers that guests may have sent or brought to the service. While you may want to keep some of the flowers in your home, you can donate the unwanted ones to prevent them from going to waste.
It is perfectly normal to ask someone else to write thank you notes if you need help.
11) Collect the ashes
If your loved one was cremated, you or the funeral director should be able to pick up the ashes from the crematory. In Bonita we personally deliver the urn to your home.
12) Start thinking about the tombstone.
Choosing a memorial stone is a very personal thing, but there is no hurry: it will take some time before it can be added to a grave.
13) Seek bereavement counseling, if needed.
Losing someone close to you can be overwhelmingly difficult. If you find that you need help after you've finished planning a loved one's funeral, whether it's a sympathetic ear or practical advice, there are organizations that can help.
What happens after the funeral is planned?
After the funeral, the next step is to begin the process of settling the estate of the person who has passed away based on his or her will.
At Boinita we can take care of the cremation of your loved one. Then, once we have returned the ashes to you, you can arrange a simple memorial service that is perfect for you and your family.
For more information about our service go to http://boinita.com
Boinita offers Single Cremation services without a Funeral Service, with a fixed price and 24-7 customer service. Boinita is located in the metropolitan areas of Aguascalientes, Cancun, Hermosillo, Merida and San Luis Potosi.
In Pet Cremation Services we are located in the cities of Aguascalientes, Cancun, Chihuahua, Ciudad Juarez, Leon, Merida, Puebla, San Luis Potosi, Tijuana and Toluca.